Join the network of Pathway Providers facilitating STEM across the country!

Three roles of a Pathway Provider: 
Pathway Providers facilitate workshops that support schools/STEM partners in successfully improving STEM education by utilizing an online strategic STEM tool.
To support partners in the online self-evaluation of their STEM programs and goal-setting process.

To facilitate Pathway workshops for partners to collaborate and achieve their STEM goals.

To encourage external STEM support for partners to achieve their goals.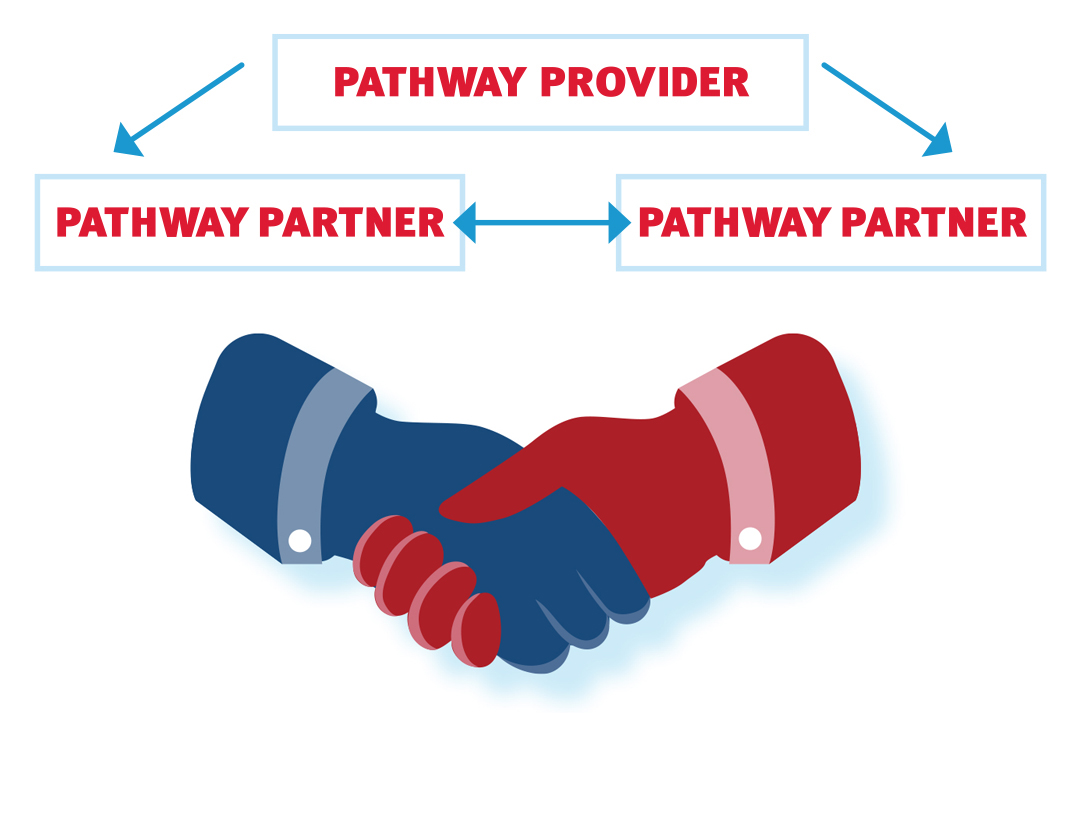 Learn more about how to become a Pathway Provider. 

Here's why current Pathway Providers use the Pathway: 
 "The Pathway is useful to include the voice of all partners (administrators, teachers, informal educators, parents, COB, businesses, higher ed, etc.) who participate in assessing and planning for STEM integration. It allows teachers to feel empowered in improving their school community through the action plan as they work towards the goal of being a STEM/STEAM-focused school. It provides the mechanism to self-reflect, openly discuss, and collaborate on a common action plan with contributions from each member." Gyla Bell, Senior Director of Programs at TGR's Foundation's TGR Learning Lab, Anaheim CA

"STEM is the now and the future. This Pathway allows me to work with STEM partners and provide educational and professional development training. The STEM pillars are nationally recognized models and used in transforming the classroom from traditional to hands-on, application-based through effective teaching practices." Robin Avant, Dean of Academics at Housatonic Community College, Bridgeport CT

"The Carnegie STEM Excellence Pathway tool has been used extensively across the Kansas City metro region since 2014. The Pathway has been a game changer as it provides for strong, valuable, focused, scoring conversations that can be revisited annually.  School districts/schools count on the KC STEM Alliance hosting Pathway workshops.  They have shared with us that this is the one time of the year that they can be guaranteed protected time to discuss pK-12 STEM strategies, and it is the one tool that directly encourages specific conversations and actions about family and community engagement." Martha McCabe, Executive Director of KC STEM Alliance, Kansas City MO

"Two factors about the Pathway seem to spark interest among my schools. First, they like that it is attached to a credible organization (Carnegie STEM) and that other schools around the country have found it to be impactful. Second, they are often interested in branding themselves as a "STEM School" and this offers them what they see as a credential. Although these are the factors that often spark initial interest, these aren't always the top takeaways after a workshop. They actually value the structured conversations and are ALWAYS surprised by parts of the self-evaluation that they hadn't previously considered." Jennifer Peck, PK12 STEM Education Consultant for CESA (Cooperative Educational Service Agency) 10, Chippewa Falls WI

Join us for an exciting two-day training institute to work with other STEM Education colleagues from around the country dedicated to bringing strategic STEM improvements to schools in their communities.
There are discounts for additional registrants from the same organization. The cost would be broken down as follows:
1 – $2,500
2 – $4,000
3 – $5,500
4 – $7,000
The Training Institute fee includes annual participation fee for the first year of involvement. There will be a $1,250 annual participation fee charged thereafter.
Please contact Toni Stith, Senior Manager for STEM Professional Learning, at StithT@CarnegieScienceCenter.org or 412.237.1616 to learn more about our next Pathway Provider Training Institute at Carnegie Science Center or bringing this to your organization.

Approved Pathway Providers
PA
Carnegie Science Center
Capital Area Intermediate Unit
TGR Foundation, DC/Philadelphia
CA
Orange County STEM Initiative
Orange County Department of Education
Riverside County Office of Education
TGR Foundation, CA
CT
DC
TGR Foundation, DC/Philadelphia
KS
MO
TX
WI
Cooperative Education Service Agency 10