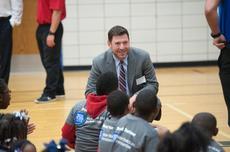 If you know Kelvin Beachum, it's almost certainly as a giant man who has spent the last four years trying to stop other behemoths from blindsiding Pittsburgh Steelers quarterback Ben Roethlisberger.
And if you've read anything about him recently, it was probably about how the former seventh-round pick out of Southern Methodist University signed a five-year, $45 million contract with the Jacksonville Jaguars after taking over the Steelers' starting left tackle job early in his second year, and how he held on to that job until a knee injury sidelined him for the rest of the 2015 season.
You're less likely to be aware that Beachum, who graduated from SMU with a degree in economics, has become engrossed in helping children get educated in science, technology, engineering and math since entering the NFL in 2012.
And he's not alone: Players around the hard-hitting league are starting or partnering with advocate organizations to emphasize the importance of STEM to children. Beachum says NFL players have an opportunity to take their STEM support to another level because of their available resources and an ability to connect with children on shared interests.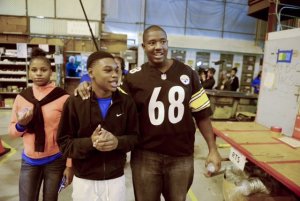 The NFL's Kelvin Beachum joined high school students invited to learn about science, technology, engineering and math-related jobs at the American Airlines Maintenance Base in Pittsburgh. (Michele Rosenthal)
"For one, we're big kids," he says. "So we pull out the drones, we pull out the fast race cars. We're all gamers, whether it's 'Madden' [or] 'Call of Duty.'"
Beachum says those things tie players to STEM even if they don't realize it.
"That's where there are opportunities for awareness," he says. "It's fun for us and it's fun for kids if you can connect a football player who likes playing with drones to a kid who finds drones fascinating. And who's to say that doesn't change a kid's perspective on science or technology? For a player, that's low-hanging fruit; that's something we can do pretty easily."
Changing kids' perspectives on science and technology is exactly what Project Lead The Way tries to do. The nonprofit organization develops STEM-focused curriculums for schools across the country. Its vice president for the Midwest region is an engaging 50-year-old man from Ohio named William White.
[OP-ED:  Underrepresented Groups Need Hand Up, Not Handout, in STEM Education]
In a past life, White had an 11-year career as a safety for the Detroit Lions, Kansas City Chiefs and Atlanta Falcons, for whom he started in Super Bowl XXXIII.
White didn't approach college like someone expecting a long NFL career. He studied metallurgical engineering at Ohio State University, a major he says he selected because "in the last seven years I looked at [from 1984], 100 percent of graduates had gotten a job, and I figured I wouldn't be the first to not get one. My life goal had always been to have my own bathroom because I was the youngest of seven kids."
A story White is fond of telling is that he decided to pursue engineering as a child when one summer he visited the General Motors foundry where his father worked in his hometown of Lima, Ohio. White says it was hot and the only air-conditioned office in the building was the engineer's so, despite not knowing what an engineer did, he decided that was the career he wanted. (He's not an engineer, but he does have air conditioning in his office. Call it a push.)
White does a lot of meeting with leaders in education and government, petitioning for STEM and trying to get Project Lead The Way's curriculums implemented in schools. He reaches out to friends he still has in the NFL to make inroads there as well.
[READ:   Science Cheerleaders Bring Ph.Ds and Pompoms to USA Science and Engineering Festival]
"The more you can use those current players that kids are goo-goo about," the better, White says. Young people will listen when players "say those meaningful things and help them get on track."
It doesn't have to be current players, though. White does more public speaking than might be expected from someone with his job, because he finds that his own accomplishments on the field help reel young people in, especially around Ohio and Michigan.
"I was in Michigan, and when you say 'Detroit Lions,' kids pay more attention to it. When a coach finds out I'm there, they may want to bring the team together," White says. "So if you mention the 11 years and draw on that, people appear to listen."
Much of White's value to Project Lead The Way is tied to the organization's fight against misconceptions and work to raise awareness about STEM.
RELATED CONTENT
Making a Difference for the Underserved
Advocates say after-school programs are key to helping diverse students succeed in STEM.
"A lot of kids deciding if they are good at STEM and want to pursue it is based on stereotypes and perceptions rather than actuality," organization spokeswoman Jennifer Cahill says.
She says Project Lead The Way is in more than 8,000 schools, but that there are hundreds of thousands more in which to impact students.
"Students might not choose to take [our curriculums] if their school has them," Cahill says. "But we want all students to have that choice."
One person Project Lead The Way has impacted is Beachum. When the now-Jaguars offensive tackle was fervently researching ways to get involved and be a role model in STEM, the organization connected him with the University of Texas—Tyler, which partnered with him so he could bring their mobile STEM lab to his hometown of Mexia, Texas, and host STEM education events.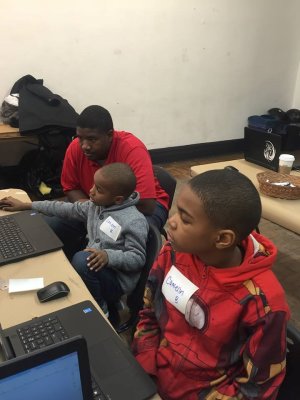 The Carnegie Science Center in Pittsburgh hosted students from the Homewood YMCA for a Fab Lab workshop with Kelvin Beachum. (Michele Rosenthal)
"I'm not trying to reinvent the wheel; I'm trying to utilize the resources I already have," Beachum says. "What UT-Tyler has done is be a good partner and show me the way to do that at a more systemic level because they've already done it."
Beachum echoes the importance of awareness.
"My dad, my grandfather have been in STEM all my life, and they didn't know it," he says of the career auto mechanics. He says in their part of the country, so many people aren't aware of the opportunities that exist or what STEM even means, and he wants to do his part to change that.
"STEM is always going to be in my blood. I come from a family that all we do is give. This is another opportunity to give of my resources, give of my time, give of my network," Beachum says. "I was at [the 2015] U.S. News STEM Solutions Conference, and I wanted to know where were areas I could be of service. … There were seminars about role models, and I was like, 'Wow, that's easy; I do that naturally. So why not be a STEM role model?'"
[READ:   How Computer Science Can Change Lives]
Beachum says he knows of athletes all around the league who are involved in STEM advocacy, and a lot of them keep each other abreast of what they are doing. Teams and players on the West Coast near Silicon Valley are especially involved, he says, with the San Francisco 49ers having helped form the STEM Leadership Institute and Russell Okung, who just left the Seattle Seahawks for the Denver Broncos, being another big advocate for tech mentorship through his nonprofit, The Greater Foundation.
In other areas of the country, the New York Giants' Victor Cruz has been partnering with the Boys & Girls Clubs of America and Time Warner Cable to promote STEM education, and Tampa Bay Buccaneers players such as Alterraun Verner and Donovan Smith have gotten involved in such efforts as well.
Another player in the East who has been involved in STEM for years is former Baltimore Ravens and Atlanta Falcons fullback Ovie Mughelli, whose foundation focuses on teaching children about the environment.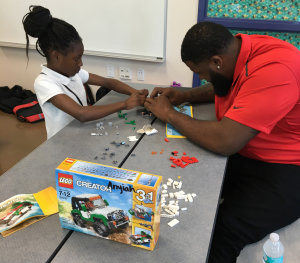 Tampa Bay Buccaneers' Donovan Smith works with a Tampa., Fla., elementary school student on a Lego project. (Cathleen Laporte)
Professional athletes devoting resources to charity is nothing new, of course, but the focus on STEM is.
Sports are supposedly a microcosm of society, and that growth mirrors the increased interest in STEM in society writ large. Google Trends tracks science, technology, engineering and mathematics as a topic, and in America before June 2011, it had never reached more than 25 percent of the search popularity it attained in May 2016. Traffic on that topic, in fact, has steadily increased since the beginning of 2011.
Cathleen Laporte, founder of Athletes for Charity, helps the NFL's Detroit Lions and Buccaneers get involved at schools serving low-income students in their respective cities. She says that while their efforts used to focus more on literacy, things have shifted over the last five to 10 years.
"STEM is the latest, hottest fad," she says. "I can't even call it a fad, per se. It's a necessity here in the U.S. because we have a great demand for skilled and trained professionals, but we don't have those with the skills to meet that demand."
Indeed, the number of jobs in STEM increased 28 percent between 2000 and 2015, according to the U.S. News/Raytheon STEM Index, and the Bureau of Labor Statistics expects continued growth going forward. Between that growth and graduation rates in STEM fields, the White House is expecting there to be 2.4 million unfilled STEM jobs by 2018, which is among the more conservative estimates.
Many of these careers require specialized skills and training so people need to start pursuing them, or at least preparing to pursue them, early. And many children, especially poor children in urban environments, either don't receive the necessary exposure to STEM to understand how important those jobs are, or aren't sufficiently engaged.
[READ:   NASA Chief Bolden: STEM Interest Needed to Reach Mars By 2030s]
That, again, is where professional athletes come in. Experts say developing skills early is important, but developing confidence early is truly crucial with STEM subjects – meaning the impact of a role model's encouragement should not be understated.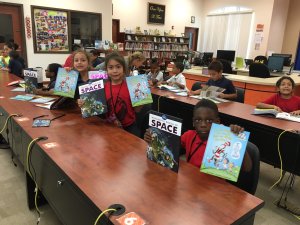 Kids at a Tampa., Fla., elementary school show books they received from Athletes for Charity. Alterraun Verner and some of his Tampa Bay Buccaneers teammates brought the books. (Cathleen Laporte)
"Going into schools, I can tell the kids to focus on their academics, do their homework, and it goes in one ear and out the other, just as they probably get it from their parents and their teachers," Laporte says. "But to have an athlete, a 'celebrity,' someone who is on TV that they look up to, share their personal story … it doesn't just go in one ear and out the other, it goes in that ear and it stays. They listen. The athletes have a platform and a voice that reaches the children."
Among Athletes for Charity's initiatives are ongoing programs featuring athletes delivering science and math books to schools on a monthly basis and helping students read them with project assignments and rewards, such as autographs and tickets to Lions and Detroit Pistons NBA games. Corporate sponsors like Ford and Tata Technologies in Detroit also send engineers and scientists to schools to engage students.
One involved athlete is Don Carey, a strong safety for the Lions entering his eighth NFL season. Carey spent his first two years with the Jacksonville Jaguars before finding a home with the Lions, 150 miles east of his Grand Rapids, Michigan, birthplace. A special teams stalwart whom his Lions teammates voted as the team MVP in that facet of the game after he led the NFL in solo special teams tackles this past season, Carey exhibits the same workmanlike attitude off the field.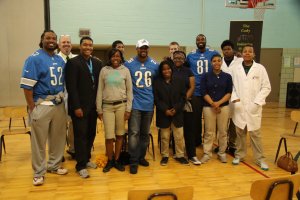 Members of the NFL's Detroit Lions visit Dixon Education Learning Academy in Detroit on May 19, 2015, for a STEM event held by Don Carey (No. 26). (Courtesy Detroit Lions)
"I'm used as a hook," Carey says. He points out, though, that "whenever someone sows their time with the young people, you can start seeing" the dividends. He says he's watched the difference volunteers make regardless of whether they're professional athletes, so while his platform can help reel kids in, he isn't sure he makes that much more of a difference than anybody else who puts in the time.
Carey has been involved with Athletes for Charity for three years, and says one of the reasons STEM is such a big focus is because early partners like Tata wanted to focus on STEM, or STEAM – with an added "A" to bring arts into the equation.
"The STEM sector is growing," Carey says. "We're talking about giving our kids a good-paying job and this is a great way to do that."
[OP-ED:   How America Can Win the STEM Race]
After having a presence in two Detroit schools last year, Athletes for Charity plans to expand to four this year. Though Carey has spearheaded this involvement with schools, his Lions teammates commonly pitch in at events. At one Carey hosted at Dixon Educational Learning Academy last May, star wide receiver Calvin Johnson, linebacker Jerrell Harris and defensive ends Darryl Tapp and Phillip Hunt volunteered their time.
Carey says that participation stems from coach Jim Caldwell.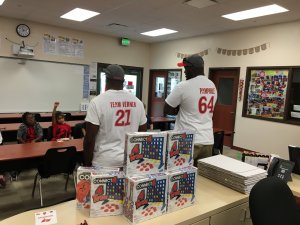 Alterraun Verner and Kevin Pamphile of the Tampa Bay Buccaneers assist in a Tampa, Fla., elementary school. (Cathleen Laporte)
"Our head coach loves community and involvement," he says. "Anytime we have a team meeting, he asks are there any announcements, and if nobody talks about going out into the community, he doesn't like that. And players love going out," which makes it easy to get people involved.
Johnson retired this offseason and Harris, Tapp and Hunt are no longer with the Lions – but that hasn't stopped Carey from being able to motivate his teammates.
Earlier this month at the first of Carey's STEM Days and free youth football camps in the area, a group of players including running back Ameer Abdullah, safeties Rafael Bush and Miles Killebrew, cornerbacks Quandre Diggs and Alex Carter, offensive linemen Michael Ola and Gabe Ikard, and wide receivers Jace Billingsley and Jay Lee joined Carey as coaches.
Abdullah, Killebrew, Diggs, Carter, Billingsley and Lee are all first- or second-year players, so it doesn't look like Caldwell will have to worry about his locker room being silent when he asks if there are community announcements anytime soon.